Do you know the difference between fall arrest and fall restraint?
Boom lift operators are required to wear a full body harness and the appropriate lanyard when operating the machine. This should include 2 separate lanyards, one for fall restraint and one for fall arrest, attached to the dorsal D ring on the harness and to a designated factory installed anchor point in the platform.
OSHA specifies: Personal fall arrest systems, when stopping a fall shall Be rigged such that an employee can neither free fall more than 6 feet (1.8 m) nor contact any lower level.

OSHA 1926.502(d)(16)(iii)
In other words, operators must ensure that they cannot free fall more than six feet and that they cannot touch the surface over which they are operating if they fall or are ejected from the platform.
Let's break down the difference between fall restraint and fall arrest systems.
Fall Restraint Systems
Fall restraint systems are design to prevent an operator from experiencing any type of a fall.
When a fall restraint system is used while operating a boom lift, the User, (most often, the employer) and the operator are responsible for ensuring that the lanyard is properly attached to the factory installed anchor point so that the operator is not exposed to falling any distance outside the platform. This typically involves the use of a short, fixed lanyard that will keep the operator within the guardrails of the platform.
The fall restraint system must be used during travel and when the platform is below the calculated total fall distance.
Fall Arrest System
A fall arrest system is one that permits an arrested fall.
A full body harness and a lanyard that limits the fall distance and arrested fall force is required. Fall arresting lanyards typically have a shock absorbing section such as a rip stop lanyard or a self-retracting lifeline. (SRL)
The fall arrest lanyard can be used when the platform is above the total calculated fall distance and when all other factors have been considered. Operators and occupants must determine the total calculated fall distance to identify when a fall arrest system may be used.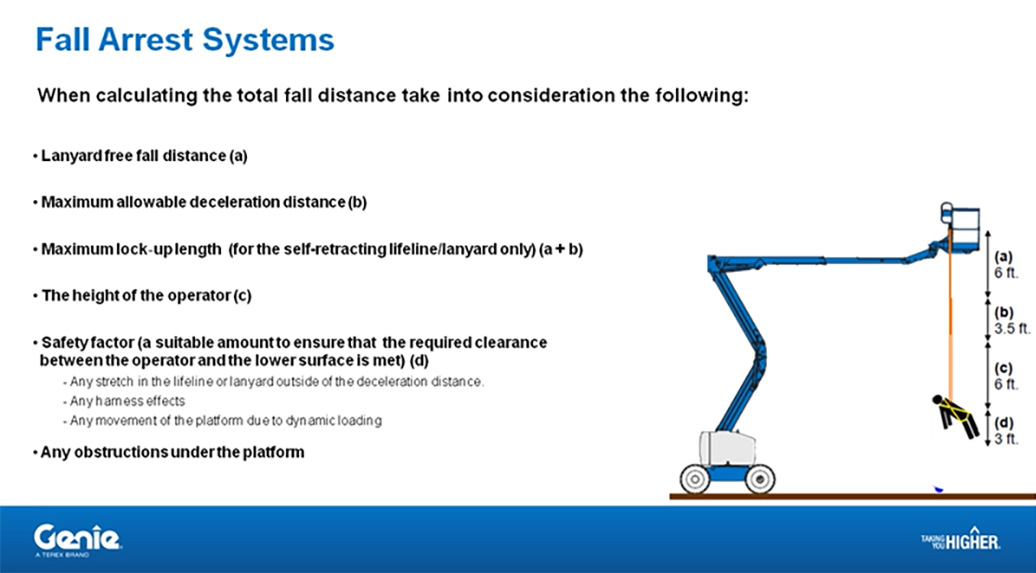 In the example shown above, the operator must be at least 18.5' in the air to safely use a 6' shock absorbing lanyard.
Any height below that would require the use of a fall restraint lanyard that would prevent the operator from falling any distance outside the platform guard rails.
This article is not intended to take the place of a comprehensive MEWP Operator training program. Contact Alexander Equipment today to schedule your aerial lift safety training.