As a machine operator or jobsite supervisor, you know how important it is to maintain a safe work environment. When working with mobile elevated work platforms (MEWPs), it's crucial to be aware of the risks that can arise. In this article, we'll explore the first four most common hazards associated with MEWPs and how to prevent them. We'll cover potential workplace hazards, including falls, tip-overs, electrocution, and collisions. This will help you keep your workers safe and prevent tragic accidents. So, let's dive in and learn more about the primary dangers of working with aerial lifts.
The first and most important safety rule while operating an aerial lift is to avoid hazardous situations.
We avoid hazardous situations by first identifying them in the safety section of the manufacturers' model specific operator's manual for the mobile elevating work platform to be operated and on safety decals located on the machine.
By carefully reviewing this information, you can become familiar with the specific hazards associated with your MEWP and develop strategies to prevent accidents before they occur. Remember, following safety guidelines is not just necessary, but also mandatory to ensure your own safety and the safety of those around you.
Proper training, common sense and planning can help you avoid hazards associated with aerial lift operation. Let's discuss the four primary hazards associated with aerial lift operation one at a time.
What are the first four of the primary MEWP hazards?
1. Tip Over Hazards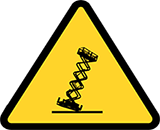 tip over hazards
Tip over hazards occur when the machine becomes unstable and falls over due to uneven ground, overload, or improper use. To prevent tip-over accidents, it's important to always operate the machine on flat and stable ground, avoid overloading the platform, and follow proper procedures for set-up and use.
How to avoid MEWP Tip Over
To avoid tip overs, never operate an aerial lift on a surface that exceeds the manufacturer's maximum slope rating. This information can be found in the operator's manual.
Aerial lifts are intended to be elevated only on a firm level surface, unless the machine is equipped with outriggers that will allow safe elevation on a sloped surface.
Do not operate the machine in strong or gusty winds.
Never increase the surface or sail area of the platform. This will significantly decrease machine stability.
Never attach overhanging loads to any part of the aerial platform.
Stay within the weight capacity of the machine and keep all objects within the platform to prevent tipping or imbalance.
2. Fall Hazards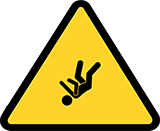 tip over hazards
Fall hazards happen when operators or workers fall from the platform due to improper use of safety gear or failure to follow proper safety.
Ways to prevent fall hazards
All aerial lift operators should stand with their feet firmly on the floor of the platform.
Never climb on platform guardrails.
Make sure all access entry points are closed and the guard rails are properly installed.
Use a full body harness and appropriate lanyard when required, attached only to designated manufacturer installed anchor points on the platform.
Full body harness fall protection with personal fall arrest and fall restraint lanyards are required on boom lifts, but as safety protocols increase, most companies are calling for aerial lift operators to wear Personal Fall Protection Equipment all types of MEWP including scissor lifts and vertical mast lifts as well. Be sure to check with your employer to make certain you follow job site and governmental agency (OSHA, ANSI) specific requirements.
3. Collision Hazards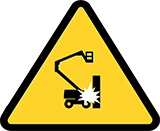 collision hazards
Collision hazards occur when the platform collides with an object, such as a wall or another vehicle. These include hazards to the aerial lift and surrounding areas as well as personnel collisions that result in injury.
How to prevent collision hazards in a MEWP
Never lower the platform unless the area below is clear of personnel and obstructions.
Look first before lowering the platform and honk your horn to sound a warning.
Limit travel speed according to ground condition, slope and other personnel or other vehicles operating in the workplace.
Make yourself aware of limited sight distances and blind spots as well as boom position and tail swing when working on a telescopic or articulating boom lift.
4. Electrocution Hazards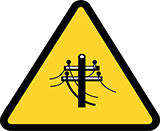 electrocution hazards
Electrocution hazards are a major concern when operating MEWPs, as they can cause serious injuries and even fatalities. To prevent the risk of electrocution, it is important to understand the safety principles below.
How to avoid electrocution hazards in a MEWP
Aerial platforms are not electrically insulated and provide no protection from electrocution.
It is mandatory that all operators fully understand the potential for electrocution when operating an aerial lift.
Keep away from any platform that comes in contact with energized power lines.
Operators must be aware of the voltage of all power sources in their work area and maintain the required clearance.
Information regarding the required clearance from all power sources can be found in the operator's manual and on safety decals attached to the machine.
Be especially aware of working near high voltage overhead power lines. These lines are most often not insulated. The operator or any part of the machine will not have to come in direct contact with a power line to be in extreme danger. High voltage electric current can jump up to 45 feet to seek a ground.
Other Hazards
There are other hazards that can be found in the safety section of your MEWP operator's manual including component damage hazards, explosion and fire hazards, damaged machine hazards, crushing hazards and bodily injury hazards so take the time to read, understand, and remember all hazards when moving and setting up your aerial work platform.
This article is designed to be an overview to help operators recognize and avoid some of the hazards associated with aerial lifts and is not intended to take the place of comprehensive operator training and hands-on familiarization of the specific machine to be operated.
It is important that aerial lift operators receive proper training that includes the requirement for a pre-operation inspection, comprehensive function tests as well as a workplace inspection prior to moving the machine to where work is needed. Re-training is required a minimum of every 3 years or if the operator has been involved in an incident or near miss, assigned to operate a machine with new or significantly different technology or has been observed operating the machine in an unsafe manner.
Remember, following proper safety measures when operating a MEWP can mean the difference between life and death. Take the time to fully understand and implement all safety protocols before getting on any aerial lift. Your safety and the safety of those around you should always be your top priority.
Alexander Equipment | Safety
Alexander Equipment offers comprehensive aerial lift operator training that includes scissor lifts, boom lifts, and vertical mast lifts. OSHA mandates only trained and authorized personnel should be permitted to operate an aerial lift.
Share on Social Media: